We also offer private cars from Hoi An to Hue and Danang to Hue, from Hoi An to Danang airport. A private car pick you up at your hotel in the center City and drop you at your hotel in Hue. On the road, you will have a chance to visit Vietnam's famous spots: Marble Mountain, My Khe Beach, Cham Museum, Hai Van Pass, Lang Co Beach, an oyster farming village, and Elephant Springs.
Hai Van Pass – From Danang to Hue, you shouldn't miss taking over Hai Van Pass, Hai Van Pass is located along the Hai Van mountainside, between Thua Thien-Hue and Da Nang City. It is the highest and the most beautiful pass in Vietnam (about 500 meters above sea level), and it is the final mountain belonging to Truong Son. At the top of the Pass, the trail of ancestors still remains, You can do amazing sightseeing that is so good for taking photos.
Lang Co beach, oyster farming village – Seen from above, Lang Co beach is a picture of beautiful pristine nature surrounded by mountains, tropical jungles, and the boundless blue sea, absorbing thousands of tourists. For those fond of sea entertainment, this is actually a good choice thanks to the sloping sea, fine and clean sand, great moderate waves, and games of swimming, diving, sailing, or more simply, relaxation.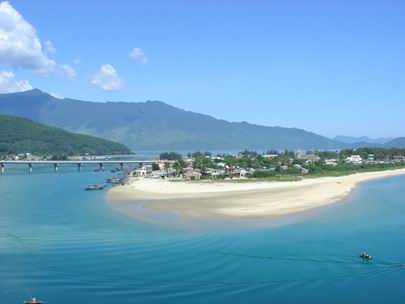 Transfer Da nang to Hue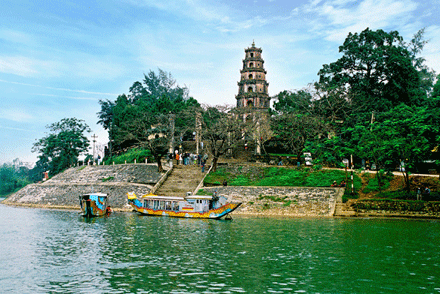 The impression of Lang Co on travelers must be the stunning views of the encircling mountains and the quiet and tranquil ambiance. Lang Co Beach is the destination for those who want to get away from the crowd and who want to have a private holiday.
Once touring Lang Co, do not forget to enjoy various kinds of seafood such as shrimp, lobster, sea shrimp, crab, butterfish, mackerel fish, and oysters. Not far from the beach, there is Chan May scenery and Lang Co fishing village which is worth exploring.
The Elephant Springs makes for an excellent break in your journey from Hue to Da Nang or vice versa. Packed out with Vietnamese during the weekend, the drive into the springs takes you through a vibrant jungle. The springs are a series of small waterfalls and ponds and remain in pristine condition.
Marble Mountain – A popular place for spiritual retreat and pilgrimage, is composed of several pagodas Buddhist, remnants of the Champa civilization, and caves inside the mountains, natural caves formed by erosion, water, and the passage of time.
SAIGON PRIVATE CAR
Email: info@saigonprivatecar.com – saigonprivatecar@gmail.com
Phone: +84 902 689 426 (Viber, Whatsapp)